April 12 - Club Committee Meeting Report - Main Points of Interest for Members Information.
The following are the main points arising from the Committee Meeting that took place at Folke on Wednesday 12 April
Team Captain's Reports
-

HARDY A CAPTAIN: The first match was a knock out against Bulbury Woods at home which we lost 5 1/2 – 2 1/2. The league starts in April with a match against Came Down.
- HARDY B CAPTAIN: the first match was a knock out against Christchurch at home which resulted in a 2-2 draw. We lost the two ball play off on the first extra hole to a birdie 2 The first league match is against Bridport.
- 3CL CAPTAIN: Saturday's match had to be cancelled due to the weather and has yet to be rearranged.
- SENIORS CAPTAIN: Two away matches have been played resulting in a 4 1/2 – 1 1/2 win against Fosseway and a 4-2 loss against Wincanton.
2018 Summer Knockout Competitions::

The draw for the two summer knockout competitions was tabled and can be seen by clicking on the following links

Club Knockout Senior Knockout

The Rules for the competitions have been refined and are available on the club Notice Board.

Club Subscriptions:

The Insurance Premiums for all members that have paid to date will be paid. (

Note:

The club insurance cover includes match play Hole-In-One costs and third party injury/damage at Folke and anywhere in the UK and 120 days abroad)

Other Items::
- New Competitions:: A 9 hole eclectic competition will be held on Friday Evenings form 4 May to 31 August. The rules are on the Notice Board and members are requsted to support this new competition.
- Shoe Cleaner: This facility has now been installed
- Sunday Medal Div 2 threshold: The Div 2 limit to 16 and over worked very well at the April competition.
- The Honours Boards have been updated
Next Meeting:

The next meeting will be the Committee Meeting to be held at Folke on Wednesday 16 May at 8:00 pm.

All club members are invited to attend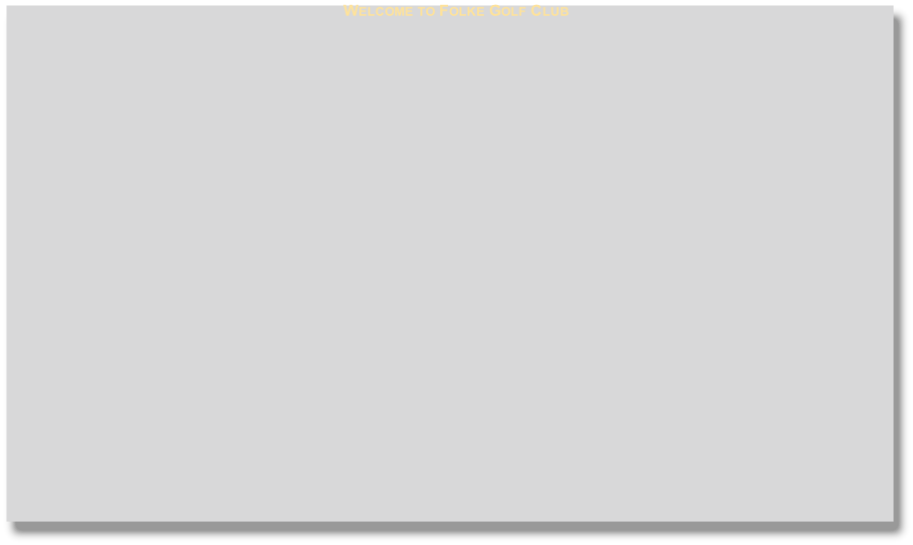 Committee Members: Matt Boon, Geoff Bannister, Norman McCabe, Richard Robinson, Ben Miller, Roger Harvey, Lee Smith

Terry Cotton
Club Captain
Steve Harris Fixtures Secretary
Martin Blatchford
Hardy A Captain
Peter Gibson
Gen. Secretary
Stuart Beardsley Treasurer
Folke Golf Centre is the Home of Folke Golf Club. This page shows the Club Officials and provides information on the Committee activities for the benefit of the club members. For further information please contact any of the Club Officials.
Kevin Down
Club Vice Captain





Simon Lloyd
Hardy B Captain

Steve Henstridge
Handicap Secretary