November 14 - Club Committee Meeting Report - Main Points of Interest for Members Information.
The following are the main points arising from the Committee Meeting that took place at Folke on Wednesday 14 November. A copy of the minutes is on the Club Notice Board
Captain's Reports:
a) HARDY A CAPTAIN: Nothing to report - All matches completed
b) HARDY B CAPTAIN: Nothing to report - all matches completed
c) 3CL : The AGM took place last week and the teams for next year are - Long Sutton, Wincanton, Ferndown, Wheathill B and Sturminster Marshall. All six pairs will count and the Reserve Cup will be determined by a post match draw. The first game is the Knockout Cup on 1 Dec. The acting 3CL captain is Kevin Allen now that Derek has taken on the Handicap Secretarial duties.
d) SENIORS CAPTAIN: Internal Club Matches have been underway - Double Bother Trophy, Best 3 of 5 and East v West. Big thank you to Lisa for the excellent food laid on for the various events.
Other Items
a) Club Funds: The secretary has done a review of the funds and identified a projected deficit in the next few years due to several factors including reduced membership. . The committee identified several means of increased funding that will be put in place and/or presented to the AGM.Further details will be provided in due course.
b) 2019 Weekend Away: This will take place at Bowood Park, Cornwall on 20 - 22 September. The cost will be £180 and a £50 deposit is required to secure a place. The Entry Sheet is on the Notice board
c) Day Away: This will take place at Honiton Golf Course on Monday 1 July. The cost will be £50 plus £10 for use of the coach.
d) Winter Knockouts:The competitions are ongoing. (See Special Events Page)
e) Club AGM: The AGM will take place in January and the Nominatrion Sheets for the 2019 Officials and committee members is now on the Notice Board. All club members are requested to attend this important meeting in the club calendar.
f) Revised Rules of Golf: A summary of the new rules that come into force in 2019 will be put on the notice board and this web site shortly.
Next Meeting: The next Committee Meeting will be held at Folke on Wednesday 12 December at 7:30 pm. All club members are invited to attend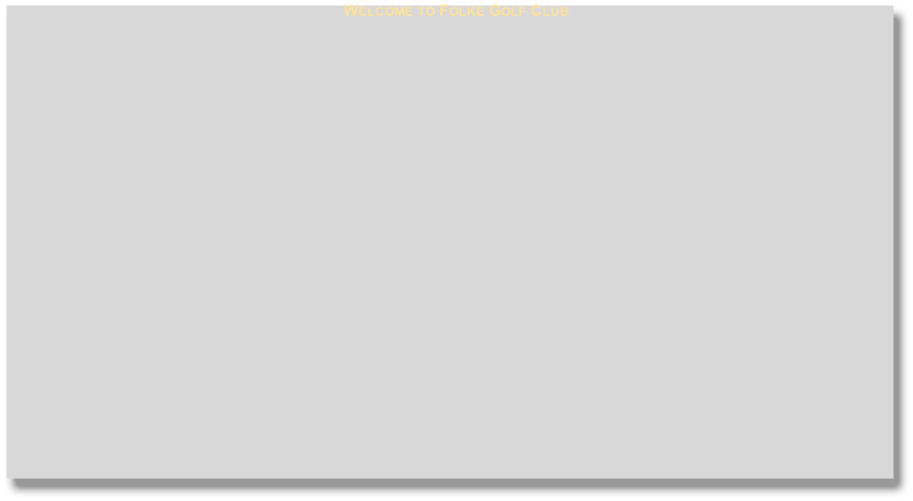 Committee Members: Matt Boon, Geoff Bannister, Norman McCabe, Richard Robinson, Ben Miller, Roger Harvey, Lee Smith

Terry Cotton
Club Captain
Steve Harris Fixtures Secretary
Martin Blatchford
Hardy A Captain
Peter Gibson
Gen. Secretary
Stuart Beardsley Treasurer
Folke Golf Centre is the Home of Folke Golf Club. This page shows the Club Officials and provides information on the Committee activities for the benefit of the club members. For further information please contact any of the Club Officials.
Kevin Down
Club Vice Captain





Simon Lloyd
Hardy B Captain
Derek Hinks
Handicap Secretary